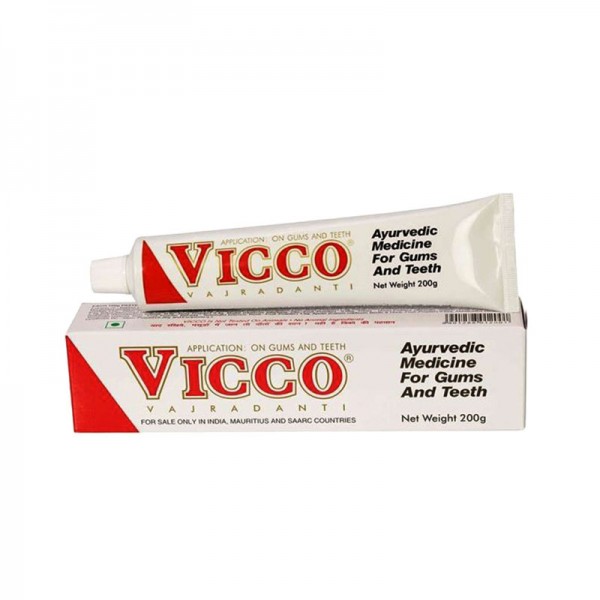 Vicco Vajradanti Ayurvedic Toothpaste is the original Ayurvedic toothpaste from India. Vicco cares for your mouth - effective, active, totally natural. Vicco cleans your teeth, refreshes your breath, and stimulates your gums.
Every tube of Vicco contains 20 pure herbal extracts, long established by Ayurvedic herbal tradition to be good for teeth, mouth and gums. Ayurvedic practice, centuries old, actively involves those elements in nature that are most beneficial for your body. Vicco toothpaste is made from herbs, barks, roots and flowers... no artificial ingredients or refined sweeteners, no harsh abrasives or flouride... just the best ingredients for dental care. Vicco's concentrated formula lasts longer and tastes great. Vicco is a worldwide favorite, and has been for decades.
Vicco uses only the purest herbs and ingredients. The sodium lauryl sulphate comes from Indian coconut oil; our mineral chalk is an ultra-fine cleanser, sorbitol is a humectant from corn.
Ingredients:
Purified Chalk, Water, Sorbitol, Sodium Lauryl Sulphate, Gum Tragacanth. Extracts of Indian Licorice root, Indian Almond, Common Jujube, Currant, Sarsaparilla, Cinnamon, Sappan Wood, Persian Walnut, Rose Apple, Medlar, Barleria Prinoitis, Prickly Ash, Asian Holly Oak, Bedda Nut, Bengal Madder, Bishop's Weed, Catechu, Mayweed and Geranium. Menthol, Thymol, Oils of Clove, Eucalyptus and Peppermint.
Vicco is not tested on animals. Contains no animal ingredients.
(50 grams of Vicco Vajradanti Ayurvedic Toothpaste.)
Vicco Vajradanti Ayurvedic Toothpaste (50 grams)